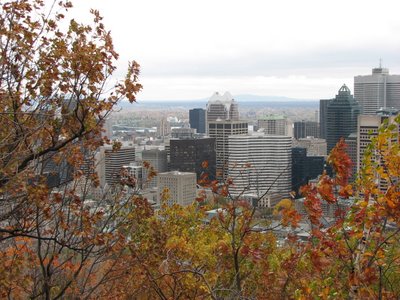 We had a lovely honeymoon in Montréal: quiet, indulgent, with very few plans and plenty of time. We caught up on our sleep and snuggles from the wedding madness, reacquainted ourselves with each others' faces (almost alarming how little we actually saw each other over the wedding weekend itself), and had the most outrageous and delicious
dinner
of our lives.
We visited the
Botanical Gardens
, and spent the entire afternoon amongst the trees and flowers. In the evening, we visited their lantern display, which was beautiful but insanely crowded.
On our final day, we met
Beth
and
J.
, in front of the beautiful Anglican church (with a mall underneath!), and walked to Chinatown for a fabulous dim sum lunch. The restaurant had a twenty-minute wait, and inside was full of bustle and the cheerful impatience of the cart-bearers, crying their wares - noodles, noodles! shrimps, shrimps! - and giving each table about two full seconds to respond before shooting off towards new customers to ignore. Still, we somehow managed to fill our bellies with delicious food and the hour with good conversation. How lovely to finally meet in person someone whom I've been following and admiring so long online.
All in all, a perfect week.